ADELS GROVE; THE SECRET IS OUT
June 1, 2017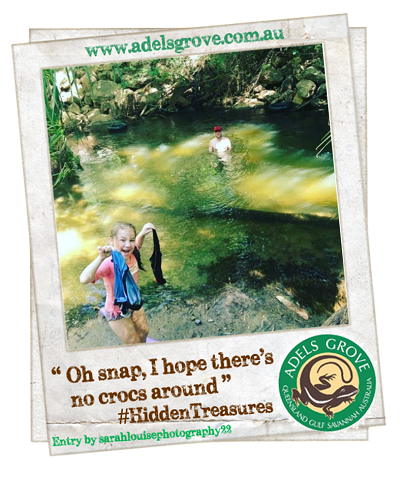 The winner of the Adels Grove 'Share the Secret' social media photo competition has today been announced with a cheeky entry by popular North West Queensland photographer Sarah Conlon taking out top honours.
A two-month competition, that saw more than one hundred entries submitted; Mrs. Conlan's entry featuring her husbands daughter showing off dad's swimming shorts while he takes a quick dip in the emerald green waters of Lawn Hill Creek was successful in gaining the most public votes.
A feat that sees her taking home a three-day full inclusive Discover Lawn Hill Guided Tour for two adults valued in excess of $2,200, Mrs. Conlon spoke of her fond memories of Adels Grove from childhood as a driver for her visit.
"We absolutely adore Adels Grove. I have very fond memories camping there as kid so we are very thankful to be able to create our own memories with our children" she said.
"Adels Grove is certainly a must see wonder in this part of Queensland and we can't thank the Adels Team enough for this amazing opportunity."
Aimed at sharing people's personal experiences and the highlights of the almost secret like location that is Adels Grove, the 'Share the Secret' competition saw entrants sharing their favourite images on Facebook, Twitter and Instagram along with a creative caption and the hashtag #HiddenTreasures.
With entries ranging from lizards sunning themselves overlooking the breathtaking Boodjamulla Lawn Hill Gorge, through to camp oven cooking in The Grove camping area; Adels Grove Park Manager and Co-owner Michelle Low Mow was humbled by the range of memories they have been able to create for people.
"The Share the Secret competition was initially a concept to drive interaction and traffic to our social media pages and whilst it was extremely successful in doing this with the entries alone attracting 1,861 likes, it also had us feeling extremely proud when seeing the vast range of memorable moments we have been able to create for our visitors" said Michelle.
With all entries visible on the Share the Secret album on the Adels Grove Facebook page we're pretty sure it's safe to say the secret that is Adels Grove just a few hours outside of Mount Isa is officially out!